A few weeks ago, my daughter and I attended a blogger event. I instantly fell in love with their warehouse and store front. We were able to make a beautiful Make & Take and then were given $25 to spend in their warehouse on whatever we would like. That is where I got my Aloha sign and all of the supplies I used to make it.
About a week ago, I received a package in the mail:
Inside of my package I found:
A Wooden Plate
Adhesive
1 Sheet of Black Vinyl
Gold Vinyl
Red Sparkly Vinyl
Transfer Paper
Poinsettia Paper Flowers
2 sheets of double sided scrapbook paper
A note explaining the challenge. We were to create something using the contents of our package and anything else that we would like to add.
Here's what I came up with:
Or:
If you would like to make your own, here is a tutorial of how I created mine:
2. I took a sheet of red glittered paper I had at home and had my Cameo cut it into a 9.8 inch circle. If you don't have a Cameo, you could trace a 9.8 inch circle or use a math compass.
3. I then used the adhesive that was in my package to adhere my glittered sheet of paper to my plate.
4. I found a doily pattern that I really liked and used the shape on the Cameo to cut out my green sheet of scrapbook paper. You could use a doily that would fit inside of your inner circle or another shape. I distressed the edges of my doily with a little bit of green distressing ink.
5. I cut my picture of Santa kneeling over the baby Jesus into a circle and adhered it to the inside of my doily. I put 2 coats of mod podge over my picture in order to preserve it. As a finishing touch, I added a little bit of glitter to the trim of Santa's suit.
6. I cut out the letters to the saying: "Wise Men Still Seek Him" (another one of my favorites) in black vinyl and using transfer paper, I placed the vinyl onto my plate.
7. I then shaped my paper poinsettia flowers and adhered a group of five of them on my plate.
8. I used my Cameo and cut out 2 flourishes from my gold vinyl, one mirroring the other.
I hope that you enjoyed my tutorial and that it was easy to follow. If you have any questions, please let me know.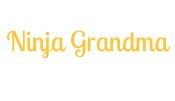 Please remember: All recipes and tutorials are for personal use only. This post was originally posted on